Don Quixote in Karachi
Entries may be a little edited for clarity or brevity. The views expressed do not necessarily reflect those of PakPositive.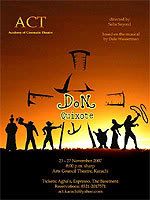 Don Quixote written by Cervantes is said to be one of the greatest Spanish revelations of all time. Now this mad night comes to Karachi!ACT's latest production, "Don Quixote" will be playing at the Arts Council Theater, Karachi, from 23-27 November 2007. Tickets are available at Agha's, Espresso and The Basement. A must attend for any theater fanatic!
Daniyal Ahmed

–
Re: Don Quixote in Karachi
You are doing a wonderful service for people like me who want to see some thing positive about Pakistan not just freaks in strange clothing and radical muslims. I thank you for bringing the pride of Pakistan forward so people can know Pakistan is a wonderful country on its way to advancement, prosperity, freedom, and a great future.
Thanks and I am sorry when people do not show their appreciation and are upset about some tatto issues….
Please understand that this is typical Pakistani people's behaviour, finding some thing wrong in every thing and the thrill that they are patriot and good muslims…..
these people cannot do a damn thing for their people but to open their mouths an d criticize….it makes them feel better, important when they find negativity in most positive site such as yours…Sorry for people like that…but believe me Pakistan and other muslim people need people like you to bring positive image forward..thanks.

Ann

Posted: November 27th, 2007